Foshan Tuojian Stomatological Medical Instrument Co., Ltd., established in 2001, has been specializing in the production of different types of dental treatment units which can be applied to hospitals and dental clinics of different levels.
Adopting high quality raw materials and spare parts combined with humanization design, we have developed various kinds of dental treatment units and peripheral products that can be applied to hospital and dental clinic of different levels, on the basis of keeping introducing foreign advanced production technology and equipment.
Dental treatment unit advantage
Raw material
The chair frame of dental treatment unit is made of high density steel material. Adopting the robot arm in place of manpower, achieves zero error of each component of the frame. Our company has independently developed the shell of the dental chair, using advanced injection molding technology, the shell error is almost zero.
Our dental treatment unit has excellent performance, with its cushion made of elastic polyurethane sponge, air pipe imported from America, and lift motor using advanced mute motor from Taiwan,
Para el dentista
El diseño de la mesa se basa en los usos quirúrgicos de muchos dentistas, por el que se acordó el diseño más ergonómico y posición y ángulo conveniente para que los dentistas puedan operar. Sumado a esto, la manguera es lo suficientemente larga para satisfacer varias necesidades quirúrgicas de los profesionales, garantizando que trabajen relajados y cómodos.
Para el paciente
A la izquierda del sillón se encuentra un escupidero giratorio, conveniente para que os pacientes limpien sus bocas luego del tratamiento. Está equipada con una unidad de seguridad en caso de movimiento accidental. El almohadón tiene un ajuste multi ángulo que se adapta a diferentes pacientes para garantizar su comodidad.
Our company passed the European Union CE certification, ISO13485:2003 and ISO9001-2000 quality management system certification in 2006, and registered on FDA medical device list of USA in 2009.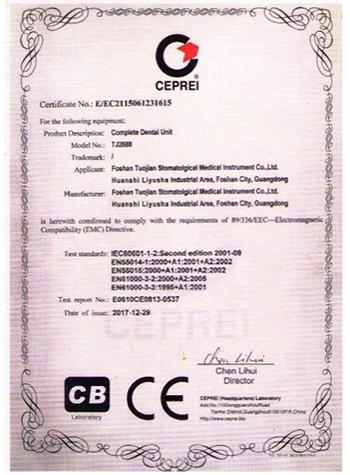 Up to now, our dental treatment units have been exported to Egypt, Palestine, Brazil, Bulgaria, Romania, Columbia, Ecuador, Kazakhstan, Canada, Kenya, the United States, South Africa, Mozambique, Nicaragua and other countries.